Now booking
prime time Florida tarpon fishing trips
February to June
_______________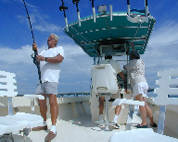 Lots of room to fish
___________________

Dependable

Quality service

Premium tackle

New equipment

Guaranteed trips

Comfortable boats

Licensed & insured

Experienced guides

_______________

Get away from the crowds and over fished waters of Key West
Just a short drive to some of the most unspoiled fishing in the Keys.
Don't miss the action
Fish prime time April to June. Limited to just 100 guaranteed trips.
We stand behind our guarantee
We offer one of the best in the business. Our guarantee is not about seeing a tarpon or just casting to a tarpon like many others.
We guarantee you will catch a tarpon and fight it until you land it or the tarpon beats you.

"I was skeptical about the guarantee but when John called to make sure we booked our free trip I was convinced." Alen Greenberg
"These guys try hard to get you hooked up. We got a great free trip and they worked overtime to fit us in." Jim Larson




Hard fighting Permit

Catch a tarpon or fish free!
Tarpon fishing so good we guarantee it.

Licensed and insured professional Captains

Don't miss your best chance to catch a tarpon! We're proud of our 30 years of tarpon fishing experience and we stand behind one of the best guarantees in the business. We're so confident you'll catch a tarpon we'll give you a free trip if you don't. There's no gimmicks and no expiration date, you can even give your free trip to a friend.
Florida fishing's best kept secret!
Fish the Key's largest tarpon migration

Quality at a fair price
All prices are per trip for up to six anglers

TV special mixed bag bridge trip $550
New! Bahia Honda Skiff trips
Day time tarpon fishing at the Bahia Honda Bridge
Fish the best tide of the day on our big 24 foot Carolina skiff. She's custom made for tarpon fishing.
2 People $450 3 people $475


Our finest guaranteed tarpon trip $580

Close to Key West, Marathon and Islamorada. 2.5 hours from Miami.
Away from the crowds and easy to find.
Located on Bahia Honda Key at mile marker 37 in Bahia Honda State Park just off hwy #1. Our boats are just 40 minutes from Key West, 20 minutes from Marathon and 50 minutes from Islamorada.
The worlds premier big game fish
Catch a magnificent jumping tarpon
GUARANTEED!
Tarpon fishing rated with the best in the world!
Spectacular jumps and powerful runs, if you have never been tarpon fishing you owe it to yourself to go.
Fish the Florida Keys largest tarpon migration. Tarpon fishing in the Florida Keys is at a peak from late March through June. We are docked close to one of the largest tarpon migrations in Florida. Thousands of hungry tarpon migrate through here every spring offering you one of the best chances in the world to catch a giant tarpon.

You can't lose, either catch a tarpon or fish free! We invite you to check out our testimonials and ask us for refferances. Please compare our up front prices and guarantee. We work hard for you and deliver quality at a fair price.

Reef, wreck, offshore and shark trips. Our Florida fishing charters offer you variety. Catch 50 kinds of fish from 1 to 1000 LBS on everything from ultra light to monster tackle. Check it out!
Hands on tarpon fishing, you hold the rod and
you catch the fish, our guides show you how.
30 years of experience
Great boats and professional guides

GUARANTEED
Catch a tarpon or fish free!

Visa or MasterCard 800-241-1975



Pflueger - Shakespeare - Cajun line - Supreme line

Try these products aboard our charter boats
Great Florida fishing
close to Key West Marathon and Islamorada
________________
The best tarpon fishing rates for your family or group just
$83 each for 6
Bahia Honda Bridge six people
$535 per trip for 4 hours


Catch tarpon or fish free!
We guarantee it!
$580 for a half day trip
$92.50 each for 6 anglers!

February and March tarpon trips $470
www.keystarpon.com
________________
Big stable boats
No rough waves
No long boat rides
No one gets seasick
Safe and comfortable
Light tackle sport fishing
Away from the crowds

Big tarpon 80 to 200 LBS

____________________

Florida Keys fishing
"The most varied saltwater fishing in North America."
Chevy Outdoors

"The Florida Keys is the best place in the world to sight-fish to large tarpon in clear shallow water."
Fly Fisherman

"Hundreds of big tarpon migrate here every spring."
Saltwater Sportsman

Tarpon
"The worlds premier
inshore game fish."
Florida Sportsman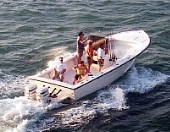 Big comfortable boats
Licensed for 6 passengers
"In the Florida Keys, where I live, tarpon fishermen from around the world drop whatever they're doing in May and June to travel here for some of the most spectacular fishing to be found anywhere."
John Brownlee
Saltwater sportsman
Check out our best
tarpon fishing deals at
www.keystarpon.com

Corporate trips, group rates and tarpon tournaments visit www.keystarpon.com
Limited to just 100 guaranteed trips. Don't miss the action Book now!